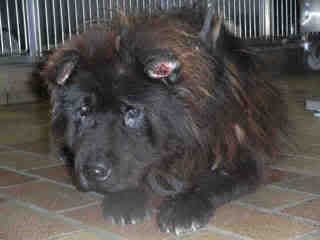 For more information about this animal, call:
North Central Animal Care and Control Center at (888) 452-7381
Ask for information about animal ID number A1068032
From: ani newhopenc [mailto:ani.newhopenc@lacity.org]:
dog impound by oficer severe fly strike poss. mange on rearend madded hair..........
MEDICAL:
1) The pet had alopecia (hair loss) with pink skin visible, and raw, scabby areas (ulcerations) on the tips of both ears. The pet's tail was devoid of hair and had a "rat-tail" appearance.
2) There was generalized matting of the haircoat and hyperkeratosis (flaking or dandruff) of the skin as well.
3) Both eyes had a mucoid discharge coming from them.
4) This pet appeared to be somewhat underweight. His BCS (Body Condition Score) was approximately 3.5 out 0f 9, where 1= extremely emaciated and 5 = normal. The teeth were quite worn in front, probably due to age. No fleas were noted.
Diagnostics and Treatment:
the pet was sedated and shaved. Sedation was deemed necessary because the pet was aggressive on the initial examination and tried to bite. The pet was placed on oral antibiotics to treat the ear ulceration (to treat skin infection) and a drug to help with pain and inflammation.
Conclusion: This pet was removed from the front porch of the guardian's residence because there were many flies swarming around the head of the pet. The hair loss and pink scar tissue as well as the ulcers on the ears are indicative of a condition of fly strike. Outdoor dogs are commonly attacked by biting flies swarming around the ears, and one needs to apply a daily ointment to the ears to prevent this parasitization (attack by parasites). This pet's tail had no hair, which may have been caused by the pet chewing on its tail because of parasites, either flies or fleas. The Chow Chow breed needs to be groomed periodically, and this pet was matted and had not been groomed for a while. The guardian of this pet had allowed the dog to suffer with fly strike, a condition that was harmful to the pet causing pain and suffering. The ocular (eye) discharge and the unkempt haircoat were also evidence of neglect by the guardian.
Anna Hernandez
NEW HOPE COORDINATOR
Los Angeles Animal Services
North Central Division
3201 Lacy St.
Los Angeles Ca. 90031
Shelter (213)485-5767 (preferred)
Fax (213)847-0555
Cell (213)305-4096
Business Hours Tues-Sat. 8-5
Email:
Ani.newhopenc@lacity.org
www.laanimalservices.com
You can now follow NOCs' MPA's
on
http://twitter.com/AnnaLAASNOC