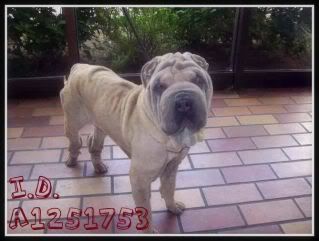 From: Elise Loden
elise.loden@gmail.com
:
Anika - ID#A1251753
URGENTLY NEEDS EYES VETTED - THIS GIRL IS SUFFERING AND NEEDS OUT
Unaltered female, brown Chinese Sharpei.
The shelter thinks about 2 years and 0 months old.
Weighs approximately 31 pounds.
Shelter says disposition is fine, yet she cannot see, has occular discharge and is in pain.
Has been at the shelter since Sep 21, 2011.
City of Los Angeles North Central Animal Shelter
3201 Lacy Street
Los Angeles, CA 90031
Phone: (888) 452-7381
Hours:
Tuesday though Saturday (8AM to 5PM)
Sunday (12PM to 4PM)
http://www.petharbor.com/pet.asp?uaid=LACT4.A1251753