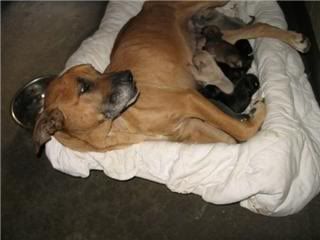 For more information about this animal, call:
North Central Animal Care and Control at (888) 452-7381
Ask for information about animal ID number A914457
from Chela (
77dognights@sbcglobal.net
):

I have rescue for mama but she works and cannot take the pups---MAMA is not lactating so the pups need to be bottle fed---WHO CAN TAKE THE PUPS TODAY? This is URGENT. The pups DO NOT need to go with mama as she is not able to feed them.
Four of these tiny 9 day old pups died in shelter worker arms today. One of the shelter workers told me that the tiny thing was just too weakened to eat and sighed and just died in his hand. They will all die one by one if there is not an immediate response from rescue. Mama is trying as hard as she can but she is emaciated and not providing enough nutrition.
Please do not forget mama in this life and death scenerio. She is as sweet as they come. But even mama's forehead is indented she is so skinny. And she knows everything that is happening: she sees her little family growing smaller by the hour. The tiny pups mercifully, with their closed miniature eyes, probably have minimal awareness of what is going on. But mama sees all.
Mama was so grateful to have us enter her cage. She tenderly bowed her head towards Krista. She let us pick up her pups, hoping that maybe we came to help them....and her.
I am more worried even about mama then the pups--she is not a beauty, she is not a pup, she is not tiny....she is just another neglected brown dog with a loving heart who silently may die at the shelter along with her pups.
If you can help, please call the shelter ASAP.