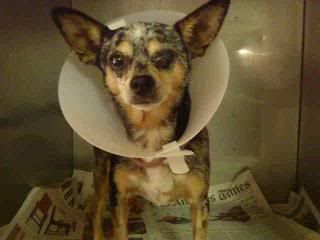 from Julie Chadwick:
EMERGENCY! Puppy only has 24hrs to live NO MORE EXTENTIONS!
His name is Puppy and he is sweet as sugar. This poor little guy has Glacoma and is in pain. He was dumped in the shleter yesterday and needs out IMMEDIATELY..HE WILL BE KILLED at the end of tomorrow (Wed) @ the North Central shelter. *Medical donation Plus avail to qualified rescue. To qualify contact
pd53@sbcglobal.net
PRIOR TO BAIL
If you can help Puppy pls contact Matt (NC Kennel manager) IMMEDIATELY at
(213) 485-8855
(213) 305-4147 city cell or contact me at pd53@sbcglobal.net.
REMEMBER HE ONLY HAS 24 hours to live.
PUPPY - ID#A1259654
My name is Puppy and I am an unaltered female, blue merle and tan Chihuahua - Smooth Coated mix.
The shelter thinks I am about 3 years old.
I weigh approximately 10