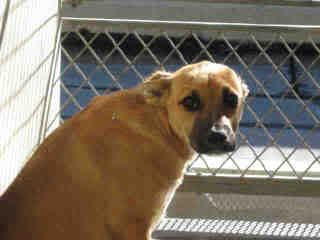 From:
ksross40@gmail.com
PLEASE HELP! Sweet dog that looks like a shep mix. see below.....
THE INFO ON THE RIDGEBACK IS FROM THE RIDGEBACK RESCUE WHO CANNOT TAKE BUT WANTS HELP TO GET HER OUT:
went and saw this girl. she is very small, maybe 20 lbs, very petite and very scared, cowering in the back of the kennel. it took me a while to coax her to the front and allow me to pet her, then she just LEANED into me for love. when... we took her out she perked up so much, so happy to be out! she even played with a toy in the exercise area. she does not have a ridge, but does have one swirl on the back of her neck, not near the shoulders where you would expect a ridgeback to have one. that with her small size I can't say she is an RR.... my pups were so much bigger. she has no bone mass, I almost was wondering whippet mix? I've heard they can have crowns?"