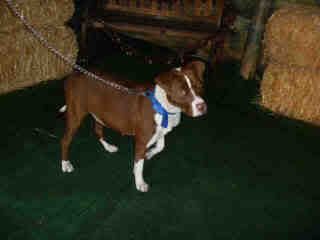 From: ani newhopesla <ani.newhopesla@lacity.org>:
PLEASE CROSS POST!!!
Maggie Needs A Savior! This is her LAST CHANCE!!!
This sweet little lady, Maggie (A1174461) an friendly active 3 yr old, Spayed, Pit Bull, came to the shelter on December 10th, 2010. She was sweet as can be but obviously pregnant; we had her spayed when she became available.
We loved her, networked her, made sure she was socialized and showed her off to everyone that came in. Finally on the 4th of January Maggie was adopted…but alas her story does not end there.
On January 7th, this poor dog, was returned to the shelter for being hyper! Did they walk or run her? NO! Did they go out and play with her daily? NO! Was she given copious amounts of attention as a dog that just came from a shelter situation? NO! Yet the humans blame Maggie for her behavior…
Maggie (A1174461) sits in the Kennels, depressed & pleading for attention by licking the bars when people pass…no barking, just pleading eyes, up on her hind legs with desperate licking of the bars, pleading for her freedom with a hopefully wagging tail. See her video here:
http://www.facebook.com/video/video.php ... 1&comments
Maggie needs a good home with a caring owner and hopefully other dogs to play with. Her time was up more than 2 weeks ago but the supervisor love her dearly so she was given more time…that time is now up as well. She has essentially spent 2 MONTHS of her life in the shelter!
--
ALL NEW HOPE TRANSACTIONS MUST BE COMPLETE 1 (ONE) HOUR PRIOR TO CLOSING
Tomika Johnson
New Hope & Bottle Baby Coordinator
South Los Angeles Animal Care Center
Email:
ani.newhopesla@lacity.org
Cell: 323-270-4047
Fax: 213-847-0554
Shelter Phone: 213-485-0117, or 0119
Work Schedule: Tues thru Sat: 8:00 a.m. - 5:00 p.m.