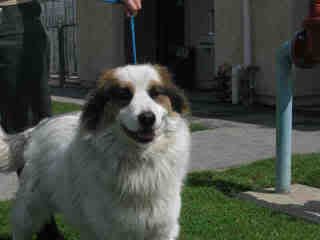 from Olga:
I met this boy today and he is beautiful, sweet and full of life. And he is already neutered... Can someone please save him?
I brought my friend Susan Kraft who is an awesome professional trainer (
www.TLC4Dogs.net
) and she had her Aussie to test the dogs with, and this boy was just great. He has been cooped up there in his kennel and he needs out... badly. I will help transport and will cover his pull fees for any good rescue who can take him. he is fairly young, i am guessing around 3-4. he looks shaggy b/c he needs a bath. i bet he has a gorgeous white coat underneath the dirt.
thank you all
Olga
This DOG - ID#A518797, kennel 18
I am a neutered male, white and brown Border Collie mix.
If I am your pet, please call the shelter IMMEDIATELY at (805) 388-4341.
I weigh approximately 58 lbs.